We all know that the day after Thanksgiving is always Black Friday as shoppers hit the malls after a big day with family. Not long ago Cyber Monday was added to our shopping agenda as BIG deals are available for the online buyer. In addition I heard today on radio that for the wireless (phone or tablet) shopper there would be an afternoon time on Thanksgiving Day for those sitting around after that big turkey day meal.
Maybe the MOST IMPORTANT of all the shopping days for after Thanksgiving is the SMALL BUSINESS SATURDAY shopping day. This shopping day is a great time that we ALL can support our locally owned businessses. What better way to help our local economy.
I have a couple of locally owned business I will mention but I know you must have many that you can think of on your own. One of my personal favorites and first on my list is Golf Mart where I of course purchase my golf items. There is where I find the prices are always competitive with the chain stores that sell golf items but I prefer the professional and courteous service I receive from Randy Agee (the owner) and David his right hand man. Check out their DEALS for the season as they are having a HUGE sell in progress and will continue through the holiday shopping season at their store location on the north end of Williamson Road. Tell them Fred Hall said hello...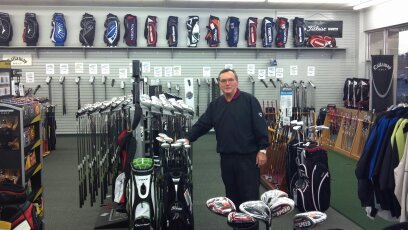 Click HERE to Google Map for location:
Secondly I will mention Jeweler T & P Jewelers located just off Valley View BLVD in the shopping zone at Valley View Mall. This locally owned company has grown from its inception right here in Roanoke. You will find their service unbeatable along with their prices. You can find them also on their website http://www.tandpjewelers.com/ . Stop in during your shopping on Saturday to see Tracy, Pam & Eric and select that unique piece of Jeweryy for that special person. Tell them Fred Hall said hello...
Click HERE to Google map for location:
Pick out your favorite Small Business in Roanoke or in the surrounding area and purchase from them this Saturday. I plan to...
UPDATE 11/21/2012: A Proclamation from the Govoners office Bob McDonnell..."...NOW, THEREFORE, I, Robert F. McDonnell, do hereby recognize November 24, 2012 as SMALL BUSINESS SATURDAY in our COMMONWEALTH OF VIRGINIA, and I call this observance to the attention of our citizens." more from the Governs website...
Click HERE for for full details: